Jakarta & Bandung Trip - October 2022 (Part 1)
Read our first trip as husband and wife.
Following our marriage, we postponed our honeymoon because Trissa must complete her ophthalmology studies first. Long story short, after Trissa's graduation, we went to Jakarta and Bandung for our first trip as husband and wife. We chose these cities because Trissa wants to visit a fairly large furniture store in Jakarta and we want to visit our little sister, Feby in Bandung.
We decided to go by plane to shorten the travel time. We bought our plane ticket from our favorite online travel agency, Traveloka. We started our trip on Saturday once we arrived at Soekarno-Hatta Airport. Upon arrival, we used the airport train to get to the city. However, we didn't do much on the first day and just had dinner at a Japanese restaurant called Isshin.
Isshin 🍲✨
At Isshin, we ordered the sukiyaki set. The portion was ample, it came with good quality ingredients and very fresh vegetables. It's really delicious! We don't really know about other Japanese restaurants but maybe this is one of the right choices when you come to Jakarta if you want to eat with a Japanese atmosphere and delicious food. Good, friendly, fast service and a clean restaurant make us comfortable eating at that restaurant. The price is not cheap though, however, they have enough delicious menu choices to fill our bellies.
Jakarta Aquarium & Safari 🐠🪸
On the second day, we decided to go to the mall, but we didn't come for shopping, we wanted to see the big aquarium in the mall, Jakarta Aquarium and Safari (JAQS) in Central Park. We could surely agree that JAQS is a place that is really worth visiting for families, not even just families, who are dating or anyone who likes marine inhabitants.
We suggest not visiting it on weekends for cheaper tickets. For only around 150,000 IDR or $10, you can see various types of sea fish, as well as reptiles and insects.
When we came, the place is very clean. The first zone contains several tanks containing small and cute marine inhabitants such as the Ocellaries Clownfish that we usually know as Nemo, Yellowtail Damselfish, Tomato Clownfish, and so on.
The next zone is the otter exhibit then the serval exhibit where we can see serval (wild cat native to Africa), we can take pictures and touch blue and yellow macaws, pythons, Madagascar cockroaches, crocodile skinks, and tortoises. Seeing the owl house and of course with the owl. And, don't forget to take a silhouette-style photo in the large aquarium tube which is located in the middle of your journey when you enter the aquarium.
Touch Pool, Aqua Trekking, Pearl of the South Sea, and Sea Explorer are some of the rides and attractions you can try but we decided to just go around looking at the animals until it's finished. And when finished we decided to eat while watching the penguins swim.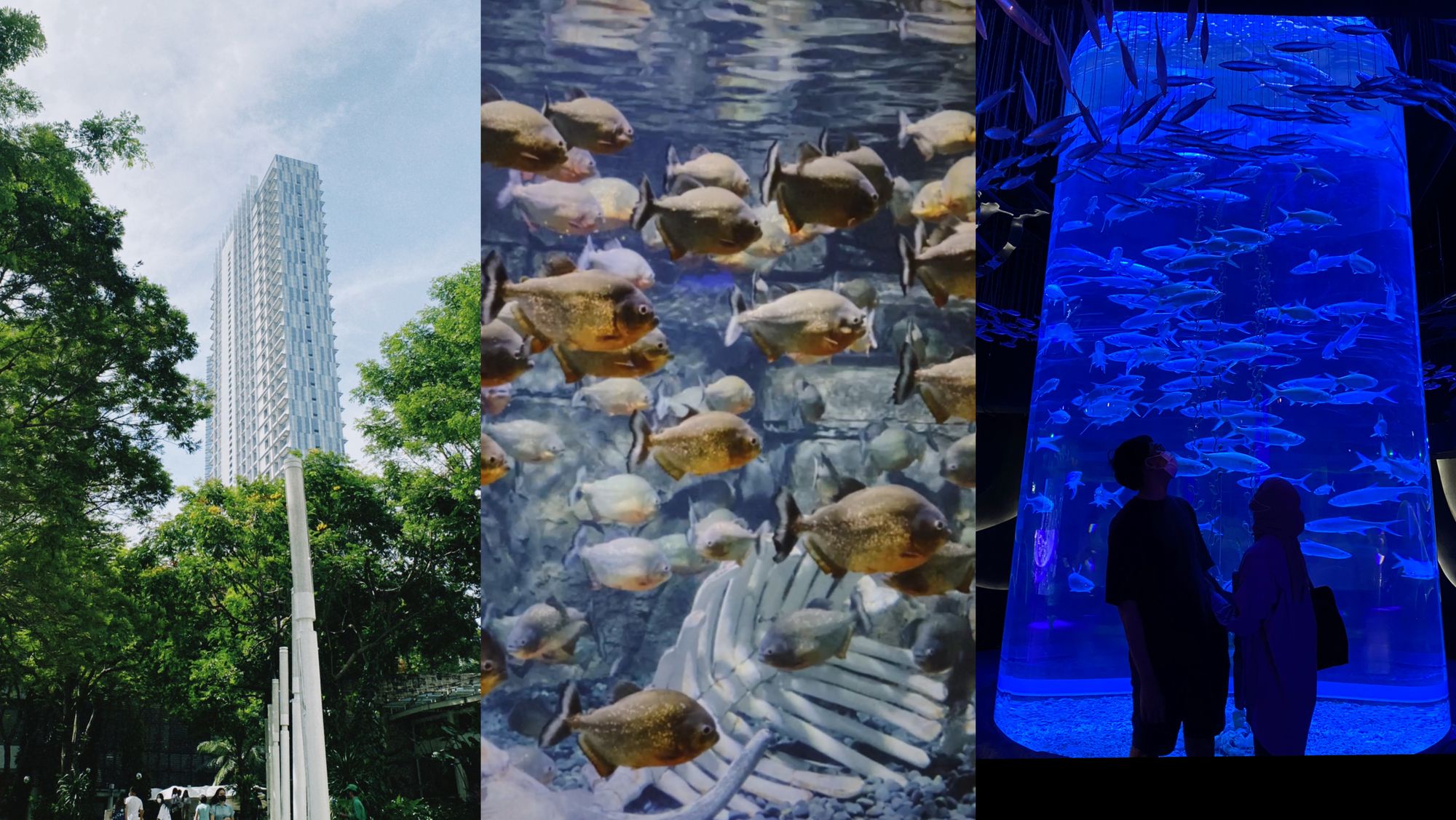 Cove at Batavia PIK and Brezza Aperitivo ☕️🍦
Because we had little time in Jakarta, in the afternoon we went again to North Jakarta, Trissa thought this cove at Batavia PIK would be a comfortable place to go for a walk in the afternoon while enjoying views of the bay and sea.
Several restaurants are present along the cove. But, our choice is a restaurant called Brezza Aperitivo. They have white and dark blue for their restaurant, which reminds me of the Popeye the Sailor Man costume. We chose to sit inside while enjoying the view. What I remember very well from this restaurant is when one of them gave us a very friendly smile when we came and ordered, even when we just ordered their ice cream. At first, we only wanted to order one gelato ice cream, but we didn't expect the chocolate ice cream to be that good, so we ordered another one. In general, it is rather pricy. But for the place, the view, the convenience of hanging out, the friendliness of the service, and the delicious taste, we think the price is quite appropriate. And when the sunset comes, the view you get will be prettier.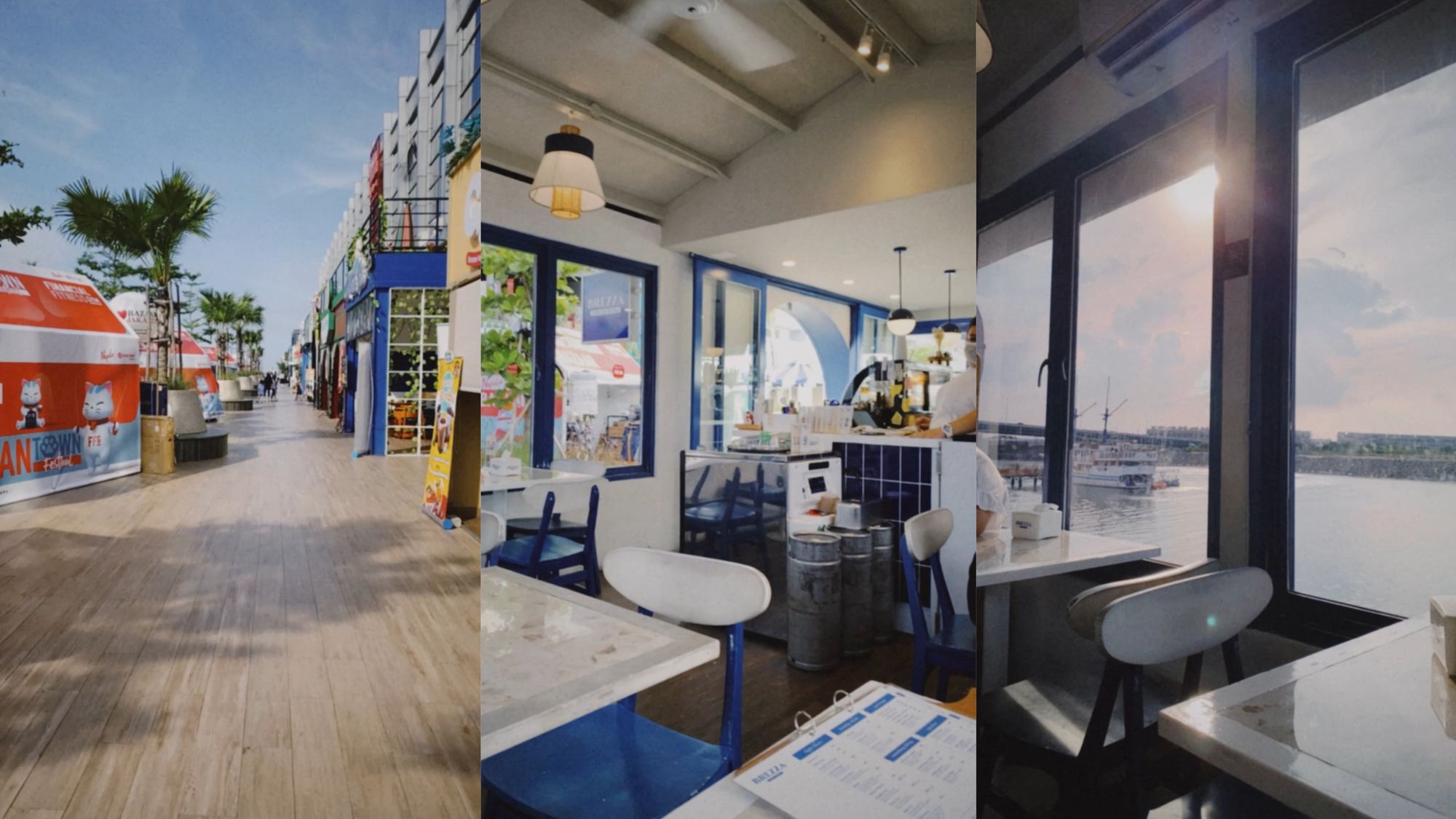 IKEA Alam Sutera 🏡🇸🇪
As the first reason for our trip already explained at the beginning, Trissa really wants to visit a big furniture store in Jakarta, and this makes us think that for a husband and wife who just got married, it seems like a vacation to IKEA is the right destination. Not only it spoils our eyes but also being able to compare and imagine the furniture that will be filled in their homes. It is a great place to get inspired to decorate our home.
Comfortable and spacious place. They have a lot of staff who can help. Good product quality and easy installation method with a fairly clear manual. If you want to compare it to other online shops, Ikea has a slightly higher price than other stores, but their strengths are that they have a great design and a stable furniture structure. Maybe later we will tell you about some Ikea products that we think are good for you to buy, based on our experience using them.
And in the middle of your journey through Ikea, you can stop by Ikea Food and Swedish restaurant. The buffet food they provide is quite tempting. They have Swedish meatballs which are very famous for their deliciousness. The taste of the food is pretty good for the cheap price. You can enjoy 8 pieces of Swedish meatballs by paying 55,000 IDR or $3.73, they have fried rice for 20,000 IDR or $1.36 and chicken salad for 30,000 IDR or $2.04, and also a kid's menu for 25,000 IDR or $1.70 and if you still have it, your kids can get 1 Titta Djur hand puppet for free. The place is a bit crowded at lunchtime.
In conclusion, I can say Ikea is a very useful and enjoyable vacation.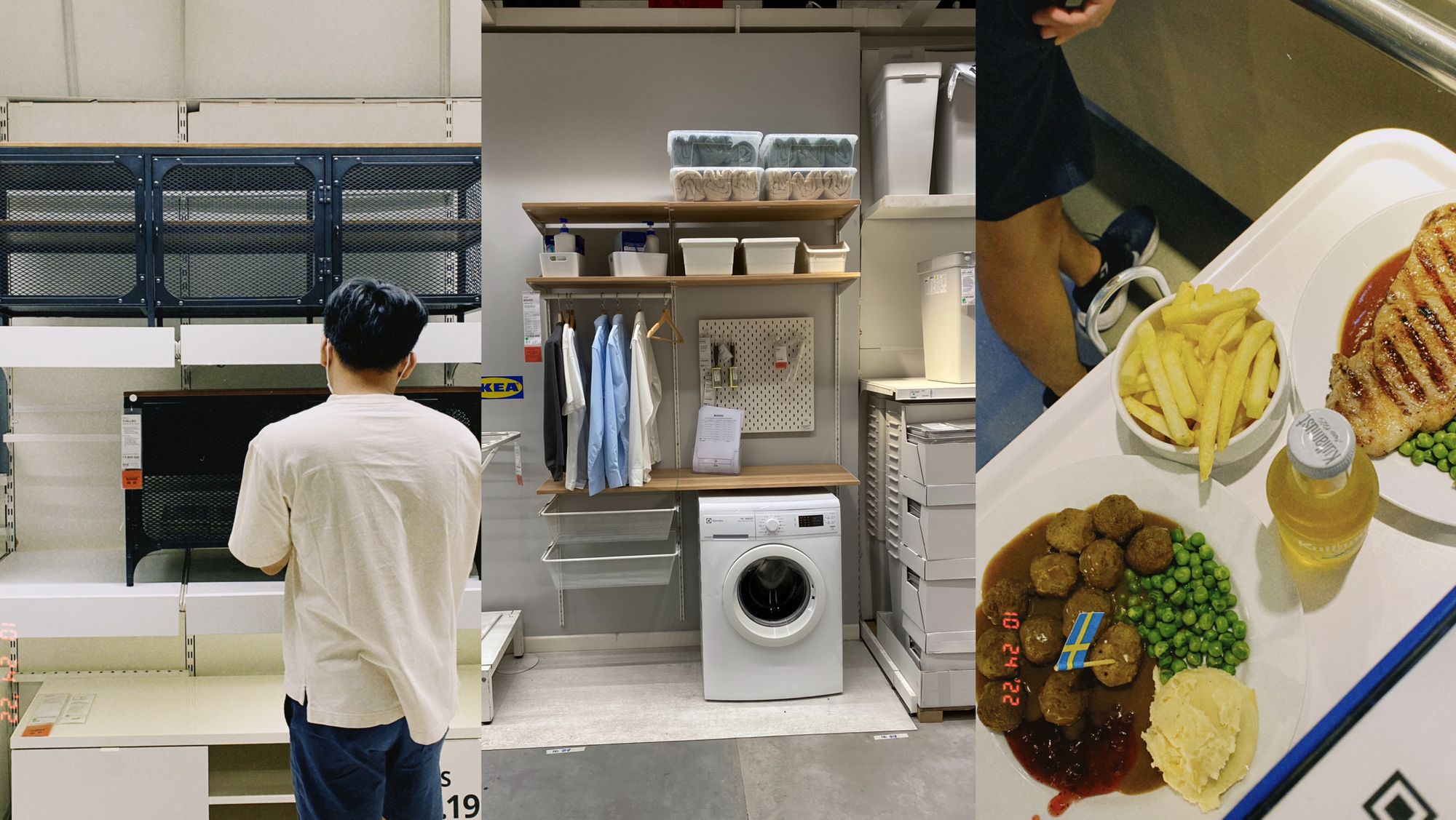 Taman Ismail Marzuki 📚🎨
This is the last place we visited in Jakarta, after getting tired of going to malls, we decided to go to Taman Ismail Marzuki as we want a relaxed and new atmosphere. The first impression when we entered was we didn't expect it to be that clean and neat, but what we saw was more than that, this library is very comfortable, clean, quiet, and neat.
There are several procedures to go through before entering the library, and if you are a new visitor you must register first. However, the registration is already online and it takes less than 2 minutes to finish. We are not allowed to bring our bags to the library though, so they must be stored on a shelf, and as replacements, we will be given a medium-sized transparent bag to store our stuff (like wallet, charger, phone) that we can take inside.
Arief preferred to sit and work in front of his laptop and Trissa walked around the library. Taman Ismail Marzuki does not just contain the library but also has museums and art gallery and several other sights in this park, such as old books or magazines that we can read outside the library, enjoy coffee in a clean coffee shop, and also this is one of the aesthetic places to take photos.
Almost half a day can be spent at Taman Ismail Marzuki, and in the evening you can have dinner at a restaurant in this row of parks. Then we continued our journey to Bandung, by train which took 3 hours of travel. We will write about our Bandung trip in the next blog. See you! 👋🏻