Jakarta & Bandung Trip - October 2022 (Part 2)
Continue reading our trip story to Bandung.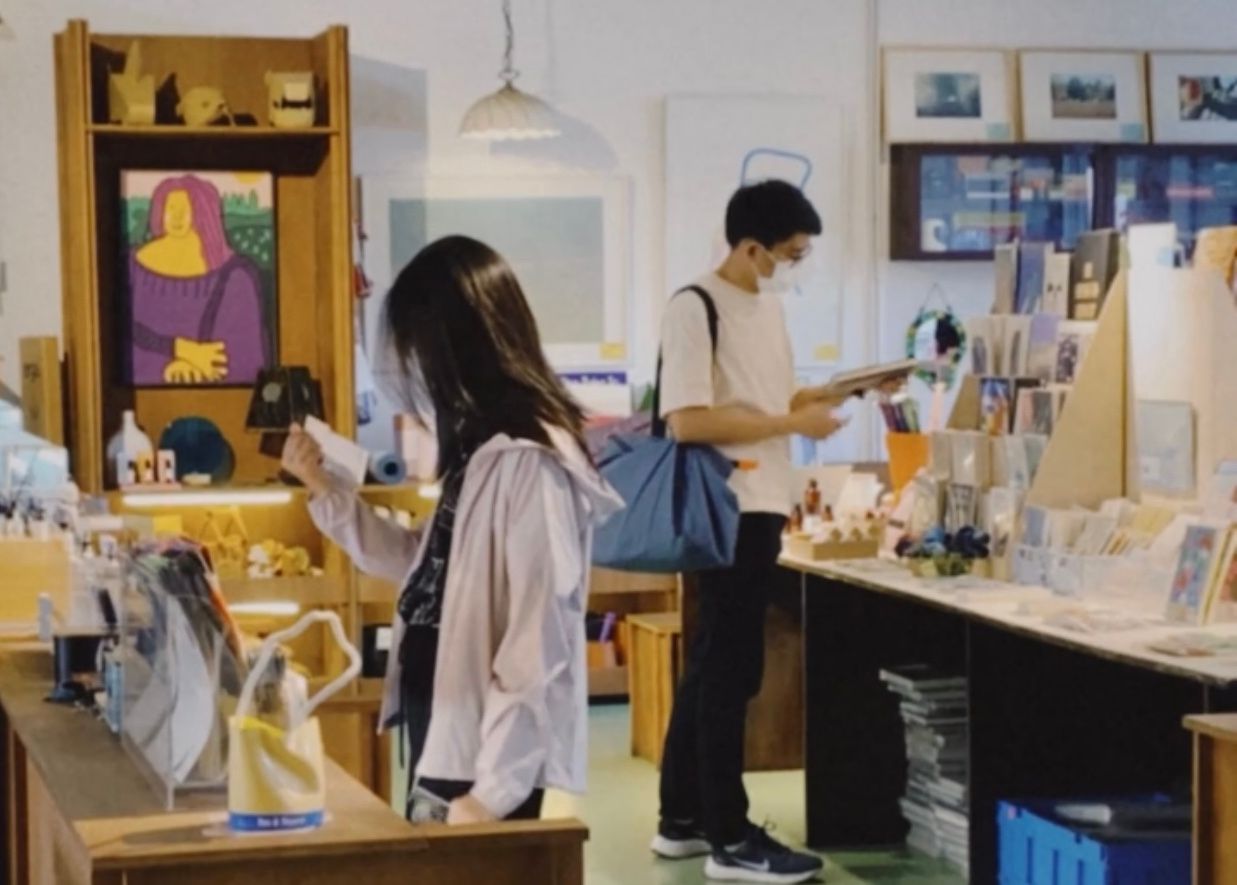 This is the second part of our Jakarta and Bandung trip story. This part covers the places we visited while in Bandung. To read the Jakarta part, click here.
Jakarta to Bandung, by Train 🚄
It only took 3 hours to get to Bandung from Jakarta via train. We prefer the train to the car transportation because we want to enjoy the view along the way. As usual, we booked the ticket from Traveloka. We departed from Pasar Senen station and arrived at Kiaracondong station via Serayu train. For the journey back, we departed from Bandung station to Gambir station via the Argo Parahyangan train.
Tibera Hotel 🏨
The hotel we booked to stay in Bandung was the Tibera Hotel. The price is affordable and the location is in the center of Bandung. At first, we only wanted to stay for 2 nights, but it turned out that even though the price was affordable, the room we got was very spacious and clean, so we extended our stay here. The bathroom is also spacious and the decoration of this hotel is quite aesthetic. The only drawback was that breakfast was delivered directly to the room so we could not choose what food to eat. The location of this hotel is on Tm. Cibeunying Street. From here, just by walking for 8 minutes, we will arrive at Cihapit Street where the places we want to visit are there.
Dapoer Milaca 🍴
The next day we decided to look for cheap and delicious food. We chose to go to Dapoer Milaca, a Sundanese restaurant that provides a variety of home-cooked meals. The place is small but very neat and not crowded (maybe because we came before lunchtime). Many choices of food are provided in the buffet and we can take it ourselves. Various kinds of sambal choices are also provided. Trissa's favorites are cumi tumis and paru tumis. It seems that nothing has failed us from all the dishes that we tasted at this restaurant. From taste, price, and convenience, we rate this restaurant 8/10.
Cihapit Street 🍜
On the next day, there were not only the two of us, but Feby (Arief's sister) also came with us. The first thing we did was to look for breakfast, we planned to walk to Cihapit Street from our hotel. At first, we just wanted to eat in Gang Nikmat. But because we arrived too early and the restaurant wasn't open yet, Arief decided to sit and drink coffee at Kopi Toko Djawa, while Trissa and Feby enjoyed chicken noodles at Bakmie Tjo Kin.
For the Bakmie, we ordered small noodles with chicken topping and added dim sum, there was nothing special about the taste because as a chicken noodle lover (Trissa), there are some Palembang chicken noodles which according to her taste are superior. But that doesn't mean this noodle isn't delicious. The texture is soft and tasty, it's even more delicious if you add the chili oil.
The dim sum served here is not like the usual dim sum, it has more chicken filling than the flour itself. The place is neat and the serving is fast. You could also say that this is a chicken noodle restaurant with an aesthetic place.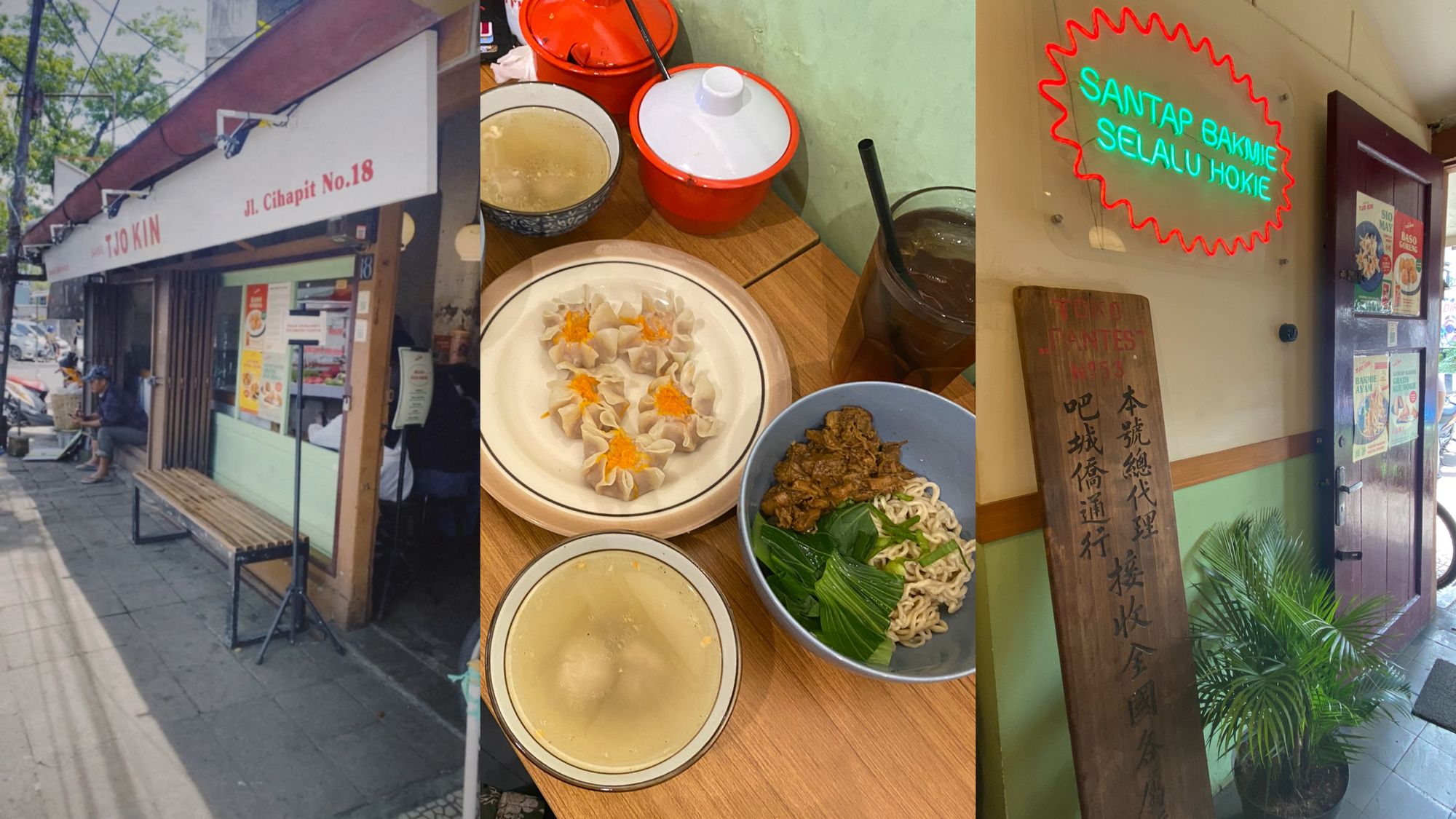 After eating noodles, we met Arief at Kopi Toko Djawa, this cafe is not too big but the decoration is unique. It even has a photo box behind the cafe. As for the coffee, it's pretty good. For the whole, the cafe is quite okay.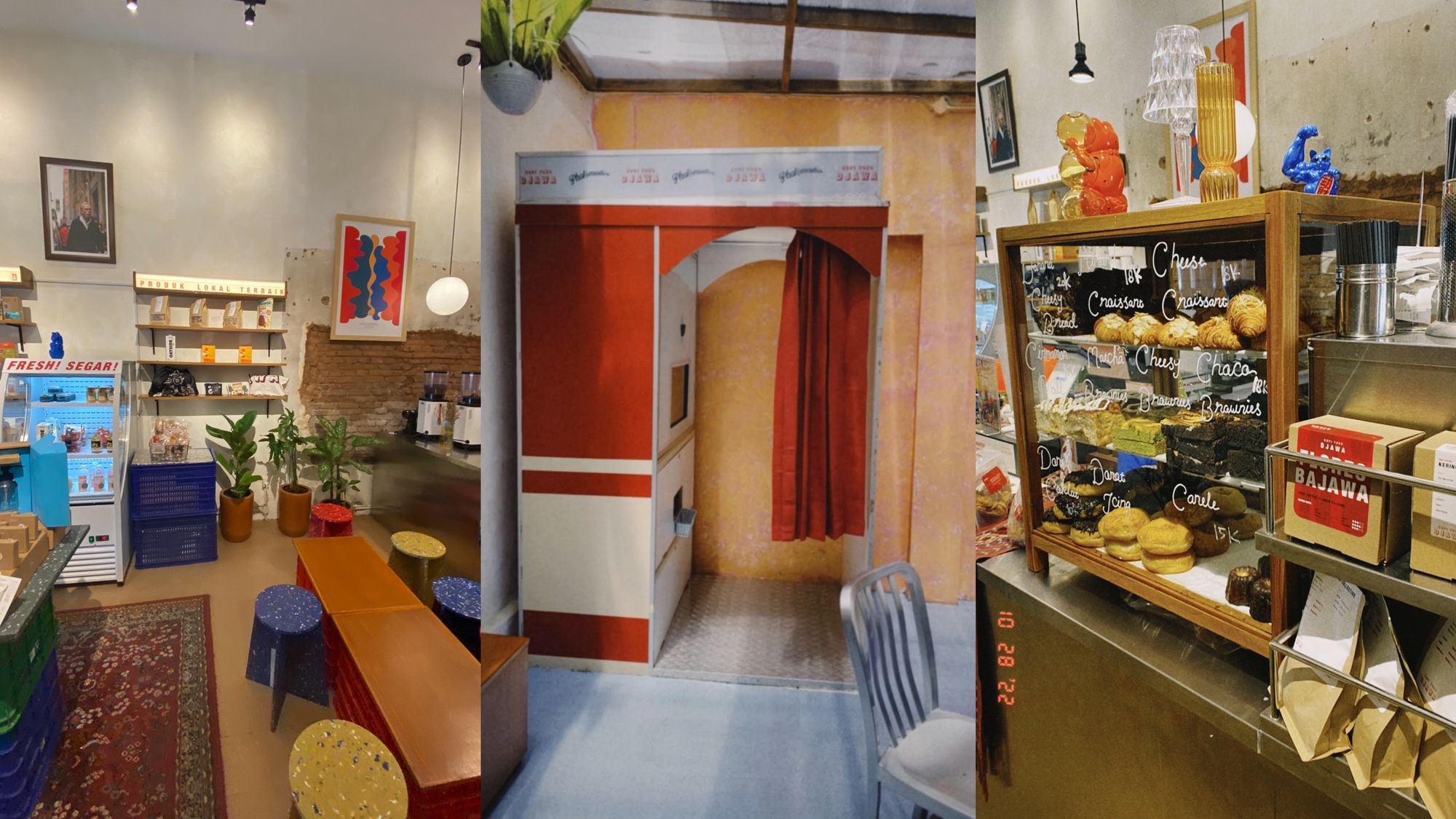 Then we walked to the Gang Nikmat, but we entered from a store called Grammars because this store is connected to the resto. Because Trissa and Feby had already tried the noodles, this time it was Arief who ordered the food. Arief ordered rice, chicken soup, and also spicy kailan crispy. It turns out that this 'Nikmat' is not just a name, because the taste of the food is really delicious. The taste of the soup is different from the usual soup, and the broth itself is really good. Unfortunately, we didn't try the rolled chicken which is a favorite at this restaurant. From the restaurant on Cipahit Street, this seems like one of the restaurants that we must return to if we go to Bandung again.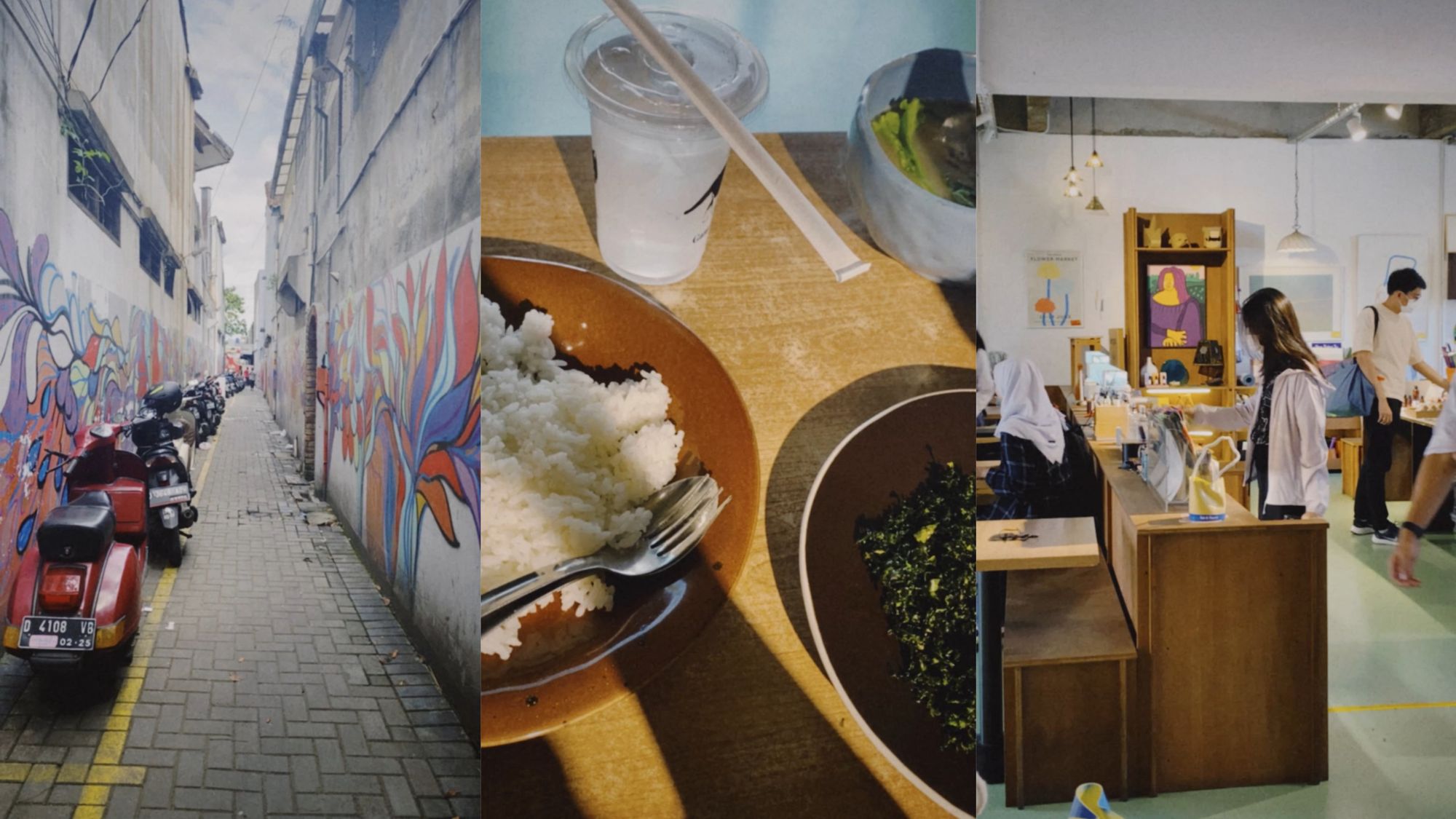 The store at Gang Nikmat, called Grammars, also sells items that are unique, aesthetic, and cute. The concept and design of the store also keep people from getting bored, it seems to be one of the places used to take pictures with an aesthetic background. They also have a photo box and in front of this shop there is a quite famous drink shop in Bandung, namely LOS Tropis, but we didn't try it because we were full enough. So, Gang Nikmat and also Grammars scored 8.5/10 for us.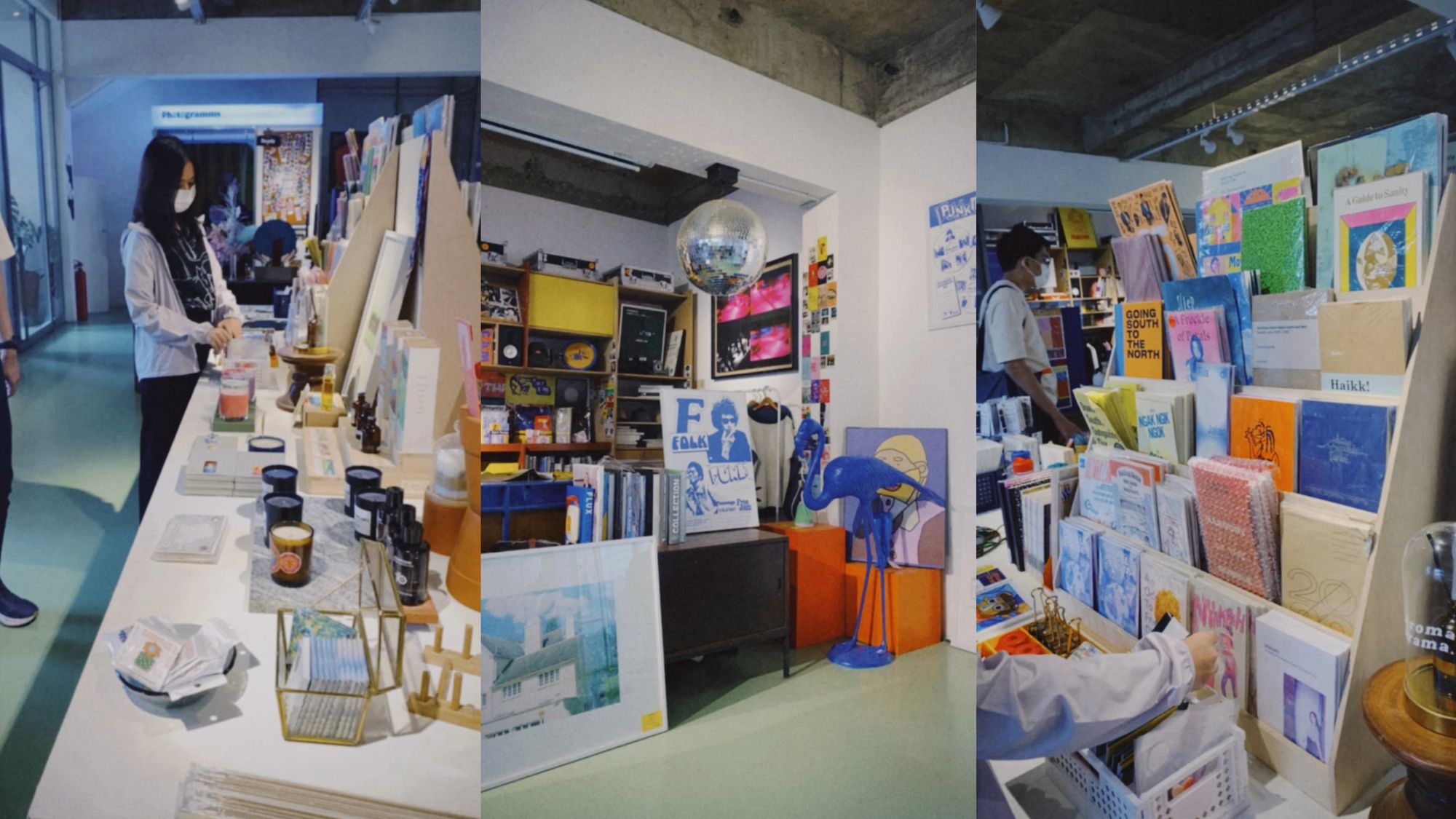 Braga ☕️
Walking in the Braga area is at the top of our to-do list. Once arrived, Arief had to work at Sawo Coffee, which seems to be one of the most comfortable cafes along Braga Street. The place is cool even though Bandung is during the day. This time Arief didn't order coffee, but iced chocolate. For the taste, it's like ice chocolate in general but not too sweet like some instant ice chocolates.
Trissa and Feby walked along Braga Street. The first goal is to visit Sweet Cantina, one of the famous and legendary ice cream stores on Braga Street. The store is small and provides various flavors of ice cream and cookies. The aesthetic decoration makes this small ice cream store a beautiful background for taking pictures. The ice cream that Trissa chose was choco mint while Feby chose cookies and cream. As for Feby's ice cream, the taste is good, the ice cream has a slightly denser texture, just like Trissa's, but it seems that Trissa didn't really enjoy the taste because it reminds her of the taste of toothpaste. For the whole, Sweet Cantina is quite okay to try to accompany you strolling along Braga Street.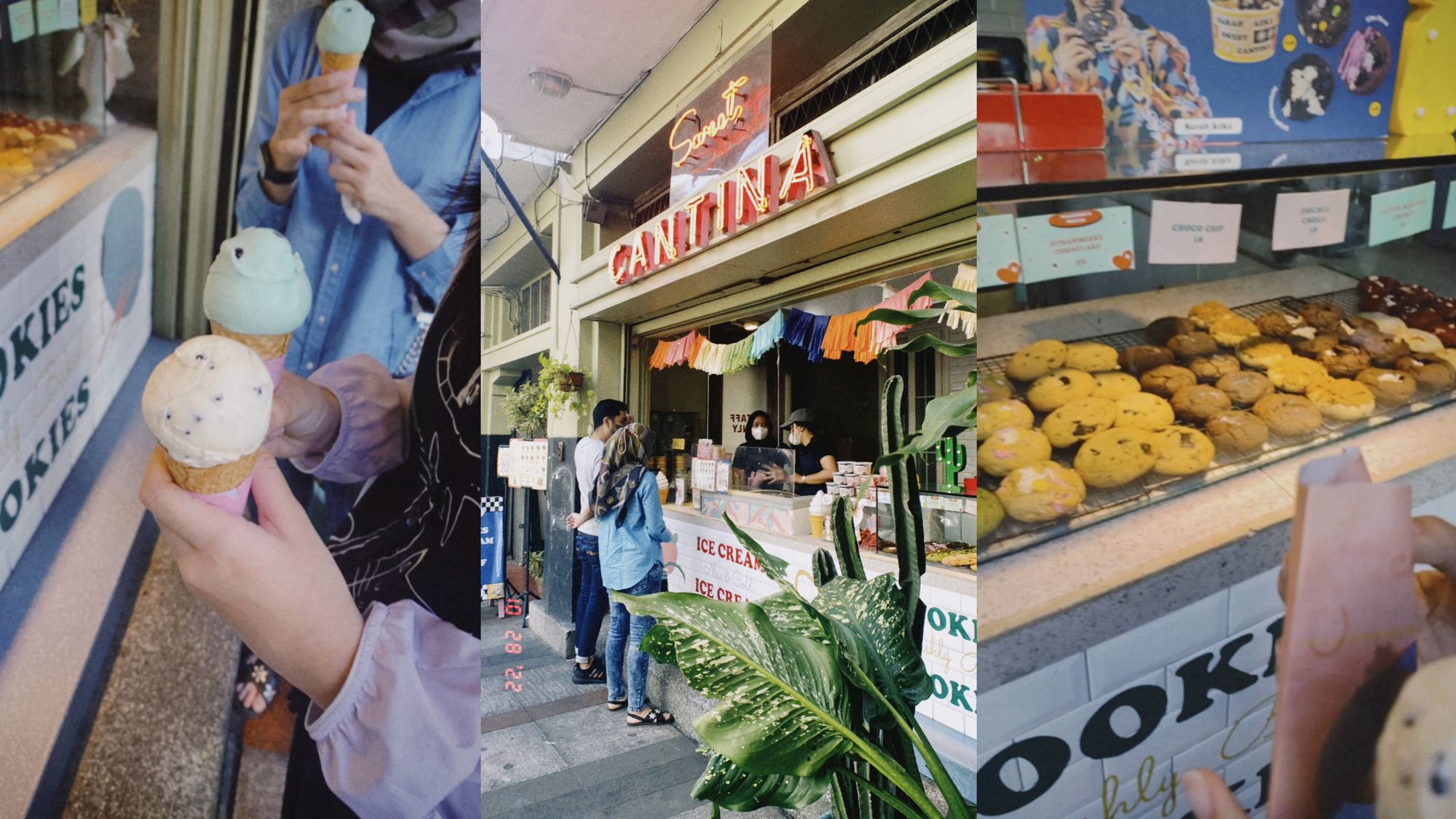 Apart from Sweet Cantina, there is a Toko Kue Lakker which has been around since 1986. They sell many kinds of traditional and legendary cakes and beverages. In front of it, there is a seat provided for cake buyers to enjoy their cakes and Braga Street. As Cipahit Street which has Gang Nikmat. Toko Kue Lakker is Trissa's must-visit place when she returns to Braga Street.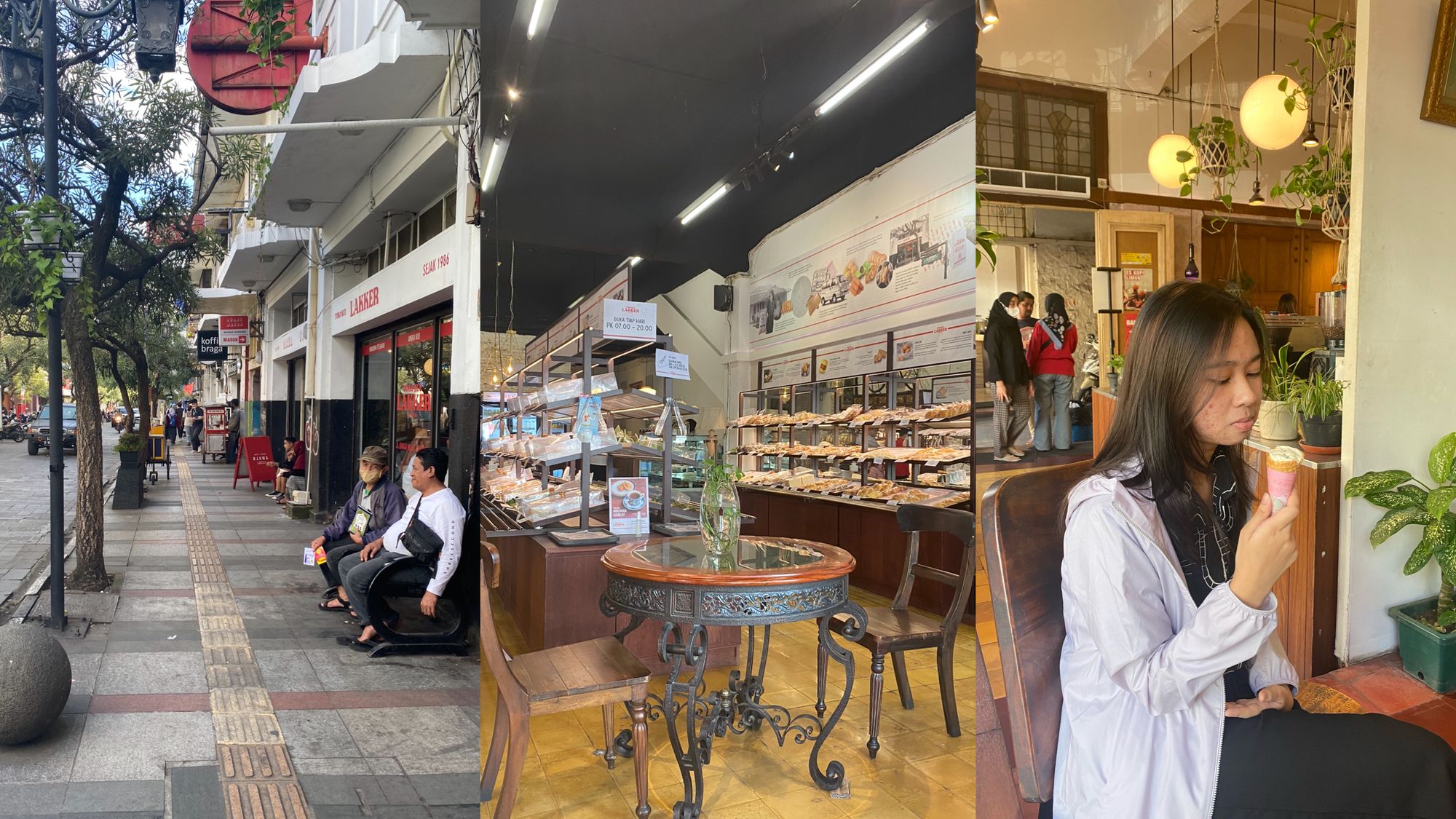 Bang Sate Bang 🍢
Next, we were looking for dinner, one of our lists is Bang Sate Bang restaurant, which of course sells satay. We chose to walk there. On our way, we passed Saparua Park which is across from Ambrogio Patisserie, one of the restaurants that are also on our list, but unfortunately, we didn't get to go there and Trissa is still curious until now. It turned out that coming to eat at Bang Sate Bang at night didn't feel quite right, because some of the satay menus had run out at night. So we bought some of the remaining menus. The best is the skin satay for us, for the others it's also delicious, the meat is big and we can take spices, chili sauce, and pickles as much as we like. The strength of this restaurant is the price is not as expensive as other famous satay restaurants. For cleanliness and tidiness, it's just okay, the decoration is standard, only displaying menu posters and satay.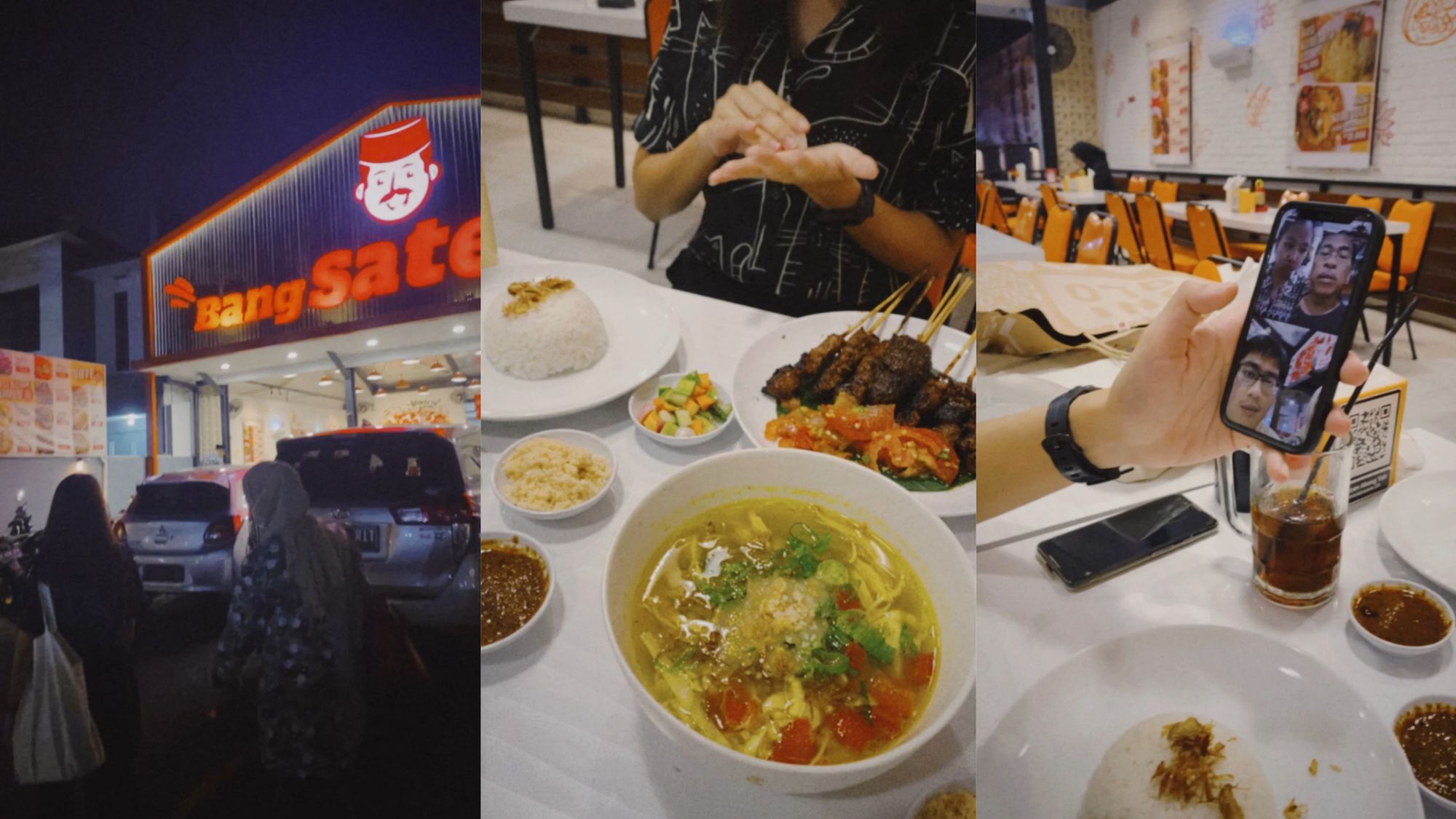 One of the most famous burger places in Bandung. When we arrived the queue was quite long but the service was also fast. Because there are more outdoor dining tables than indoor ones, it's not recommended to eat when it's raining. The choice of burgers is quite a lot & all the complements are delicious. The patty is big and juicy and the seasoning is seeping through. The Nashville Chicken Wings is our favorite, we ordered 6 pcs but it was cut in 2 pieces with the dumbs & wings, so you get 12 pcs. Very worth the price. The french fries are crisp and crunchy. For us for what this restaurant provides, this is one of the best places to eat cheap burgers with delicious taste. No wonder this has become one of the favorite burger places in Bandung.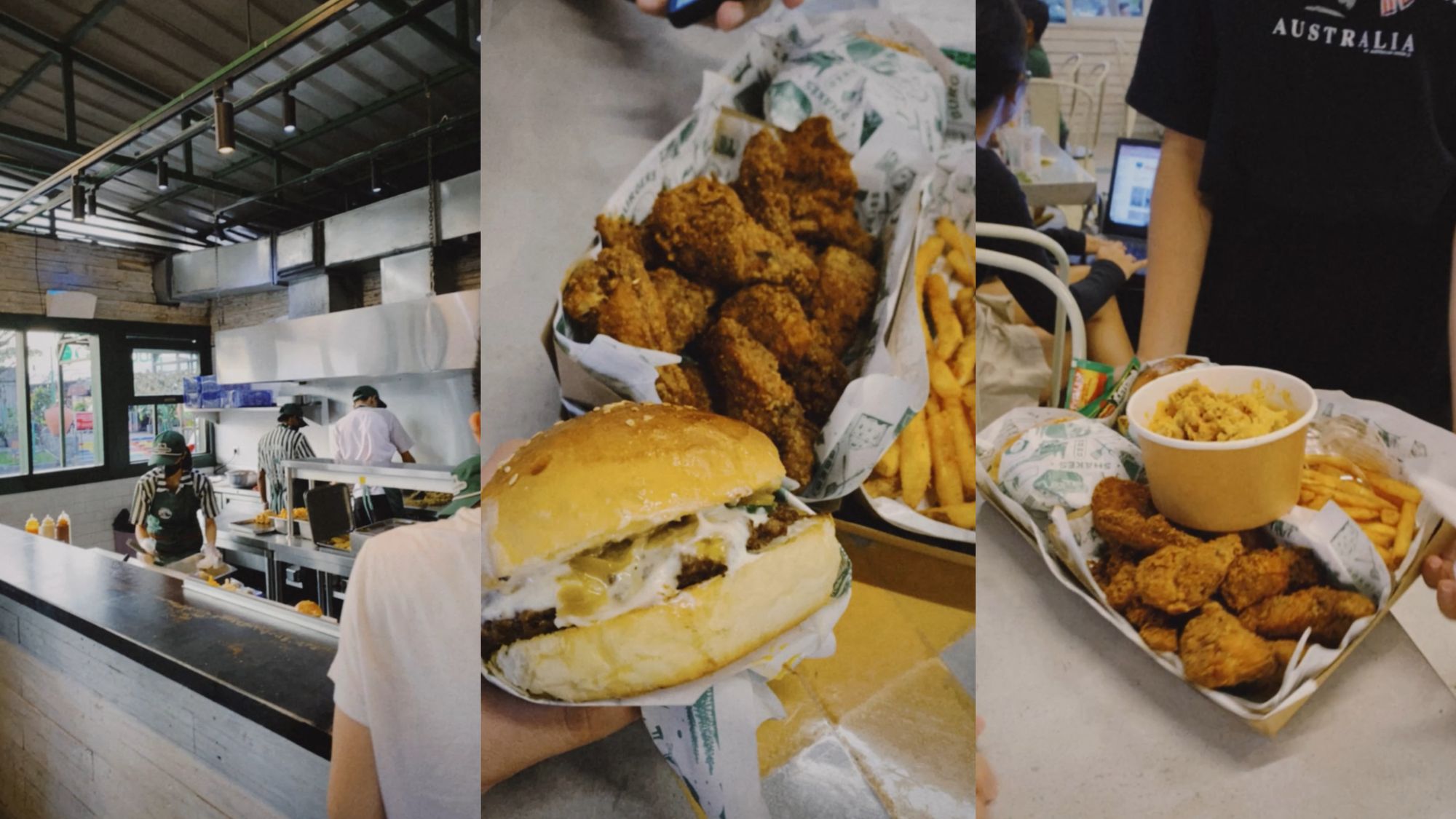 This Sundanese cuisine restaurant is also famous in Bandung. The place is crowded, especially during lunchtime. There are several branches even in the same street, so if one restaurant is too crowded, we can walk a little to go to another branch. So, don't be surprised if we eat at the same table as other visitors, because the place is that crowded. We ordered rice, fried chicken, grilled chicken, tahu, tempe, and fried lettuce (jukut goreng). Our menu includes fresh vegetables (lalapan), sambal, and sambal leunca. As for the taste, it is really good, especially when the chicken is eaten with the sambal. The jukut goreng was quite salty, maybe because it was sprinkled with flavoring on top, so some were salty and some weren't salty when eaten. The downside of this restaurant is crowded, so it might be a bit uncomfortable during lunch. But for those who don't care about that, it's worth trying.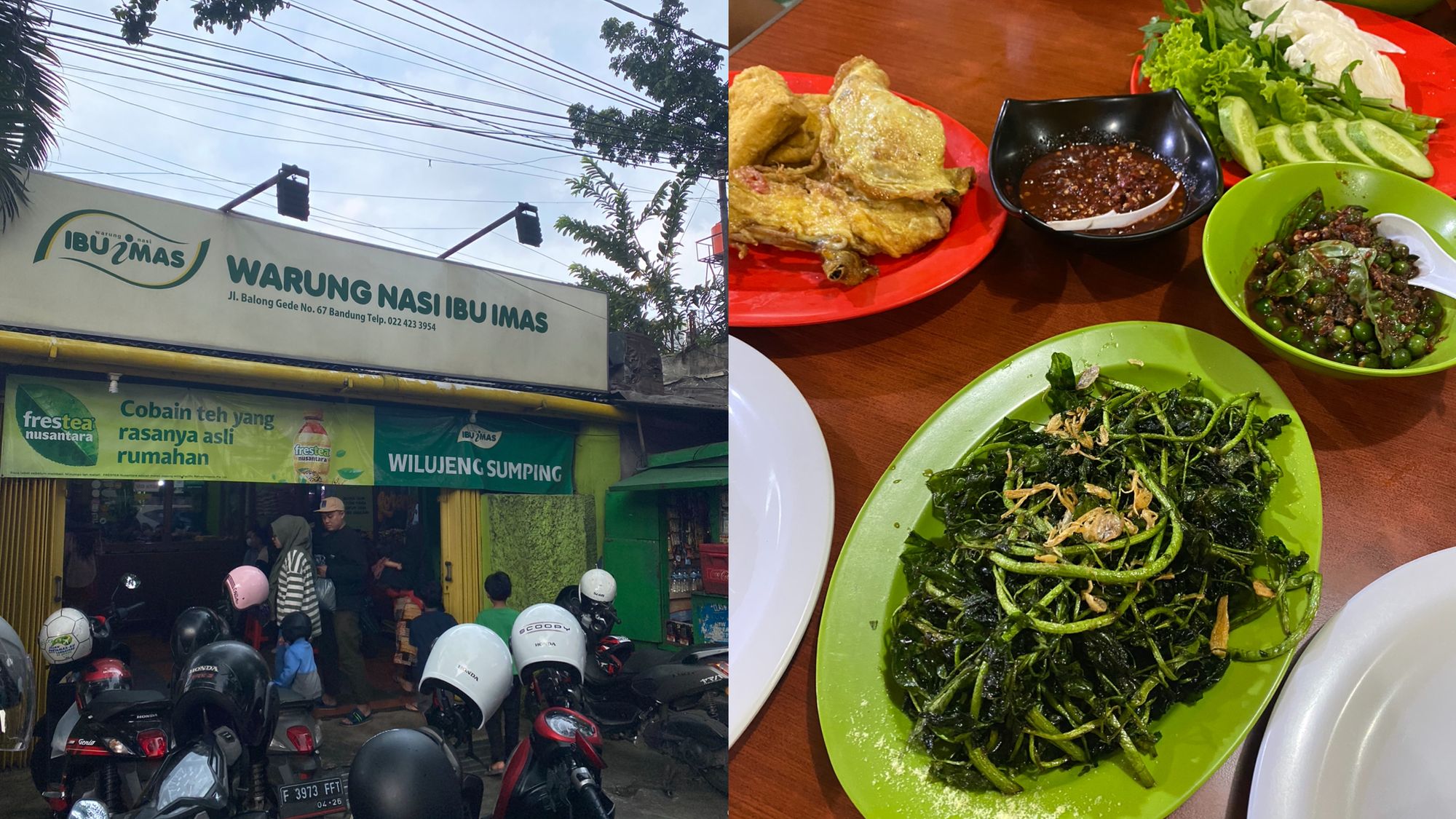 So from this trip to Bandung, we are recommending these restaurants or places for you when you visit Bandung: Dapoer Milacca, Gang Nikmat, Toko Kue Lakker Braga, BBQ Mountain Boys, and Warung Nasi Bu Imas. Comment below if there are other places in Bandung that we should visit when we travel to Bandung again.
We also made a short video that recaps our trip to Jakarta and Bandung. You can check it here:
Thanks for reading our story. Cheers! 💛